Cosmetic Wheel Repair Training
Our belief for success is to take something that is proven and duplicate it. It works for McDonalds, Starbucks, Subway, and all other successful franchises. Sure, we have competition but with using our business model we have replaced their overpriced services with ours at almost every customer that we have approached. It's a no brainer for the Auto Dealer, Body Shop, Car Owner, etc.
Curb Rash offers a couple different ways to get into the cosmetic wheel repair business. Either way we will train you and get you started making money quickly. Usually the next week. The training program takes 2-5 days depending on your skills. It takes somebody that is able to work in the temperature extremes in your area. Anybody that is good with their hands and has an eye for detail can easily do this work. The typical wheel repair technician can easily fix 10 wheels in a 6 hour day. Hovever, we have several technicians that do over 20 in an 8-9 hour day. Most of them are limited to only how much money they want to make in a day.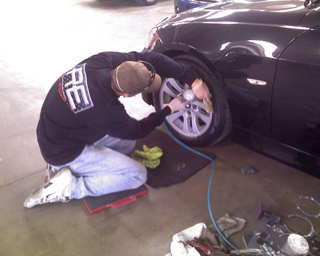 This is Brian (Springfield, MO owner) who works until the kids need to be picked up everyday from school. He was laid off a few years ago from a large pharmaceutical company as a drug representative. Ask him how this low stress business has helped him get through these tough times.
Please email me at corey@curbrash.com for more information on how to join our successful team.

Factory Wheel Painting
Want to Change the Look of your Factory Wheels? Do it for as little as $320!
Get Started
---
Who We Repair For
Car Dealerships
Body Shops
Auto Service Centers
Detail Shops
Personal Vehicles
Rental Car Locations
Insurance Companies

---
What We Repair
Factory Painted
Machined
Brushed Aluminum
Polished
* We do not repair chrome, bent, or cracked rims.